Friday, November 17th 2017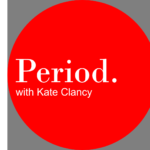 Excerpt: Eating Psychology Coach Lu Uhrich teaches me a thing or two about body image, nourishing yourself, and how to get back your period.
Summary: Last week, Dr. De Souza shared a clinical perspective on the effect of undernourishing your body. This week, I talk to Lu Uhrich, a Certified Eating Psychology Coach, Body Image Mentor, and Life Coach who helps women to grow in self-awareness, find food freedom and practice body love. Lu talks to us about how her restrictive eating patterns once led to losing her period, and how she got it, and a lot of other great things, back.
This episode was an important one for me. As an anthropologist, I tend not to see the loss of the period as bad the way clinicians and clinical scientists can. It's a symptom of not enough available energy, but not inherently all bad. Talking to Lu really widened my perspective on this. For many women, the period is a sign of health, a symbol of femininity, or just a way of feeling normal. So while I may not worry physiologically about missing the occasional period, I feel a lot more compassion towards those who are dismayed by its loss. I also think Lu's personal experience can teach us a lot about how we can turn our attempts at "healthy" or "clean" eating into something that is restrictive.
Here's a little more about Lu Uhrich: Lu is the host of the Untamed Podcast, featuring women who are living beyond limits and helping others to do the same. Lu specializes in guiding her clients to overcome struggles with yo-yo dieting, food restriction, binge eating, loss of periods, shame, body hate and other unwanted symptoms, mindsets or behaviors. Through her one-on-one coaching program and online courses, she teaches participants to end the exhausting hustle for food and body perfection by finding out who they really are, what they truly want, and how to finally get it. For more information check out Lu's website at www.lueats.com.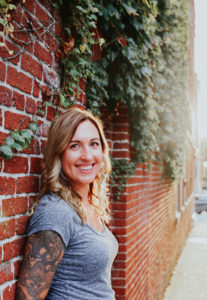 Lu has a few more spots left for her one-on-one coaching, and if you get her newsletter you'll get an exclusive Q&A podcast where she answers client and listener questions. I'm also the guest of episode 13 of her first season, so I hope you'll check it out!
Thanks to Ellebox for sponsoring season 2 of PERIOD. Enter our giveaway to receive a deluxe three month subscription – you have until November 22nd, 2017. And use coupon code "periodpodcast" or this link to get 50% off your order.
Do you want to be a patron, or is there someone on your shopping list who would want to be? Check out my new Patreon page for ways to support this podcast. Help me make beautiful things!
If you have a sponsor, why are you still asking me to be a patron?
The sponsorship with Ellebox is not something that provides a regular source of funding – it's an affiliate program where I only make money if you buy their boxes. I would love for you to buy their boxes because I like the product and of course it helps the podcast tremendously. But affiliate programs are never going to bring in much money. This podcast is expensive to run – in addition to what I already spent on equipment, it also costs money to pay my editor and host the audio. I also send gifts to all my guests. Patreon offsets some of these costs, though I still spend money and do not break even. I am looking to break even, and if I ever have a surplus I will roll that right into funding other makers through monthly donations at Patreon rather than keep the money myself.
Want a better PERIOD?
Subscribe to PERIOD so you don't miss an episode! Subscribing, especially on iTunes, helps us a ton with promoting the podcast and getting the word out to more people. So does leaving a review, so please do that too!
Call or write me! I am collecting two things right now: your period questions, and first period stories. Leave me a voicemail with either or both at 262-PERIOD-2 (262-737-4632). Don't forget to tell me how to contact you if you don't mind my following up.
Other ways to contact me:
I can't wait to hear what you think! Thanks for listening!
Direct download: here
Permalink: here
RSS: here