Friday, November 18th 2016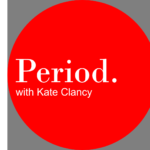 Excerpt: Dr. Roxana Hickey joins Kate to talk ladybugs – or rather, the vaginal microbiome.
Summary: It's been a rough week for everyone. As a white woman, I have to say I feel there are a lot of white women right now who need to do some serious soul-searching. A majority of us voted for the racist, misogynist lizard monster. Forty-nine percent of college-educated white women voted for him.
I have so many more thoughts about this, but I'm saving them for a separate episode.
In the meantime, I have found solace in creative work like this podcast, and in enjoying the podcasts of others. New to me? Check out my archives! I love them all, but if you want to talk politics I'd especially recommend Episode 6 where I interview Periods for Politicians founder Sue Magina.
This episode is also great fun. Like episode 8, I've interviewed a scientist – in this case, Dr. Roxana Hickey, a microbiome data scientist and postdoctoral fellow at the University of Oregon. Dr. Hickey will be teaching us all about the vaginal microbiome, particularly how it relates to puberty, menstrual cycles, and even pad and tampon use. You can find Dr. Hickey at roxanahickey.wordpress.com, and on Twitter at @roxana_hickey.
Dr. Hickey and I discuss several articles in this episode. Want to read them yourself? Here they are:
Finally, Dr. Hickey and I discussed one other article off the air about making yogurt… vagina yogurt. One of Dr. Hickey's collaborators was interviewed for this article. Check it out!
Subscribe to PERIOD so you don't miss an episode! Subscribing, especially on iTunes, helps us a ton with promoting the podcast and getting the word out to more people. So does leaving a review, so please do that too! You can also find information about the podcast at Period Podcast on Facebook.
Want a better PERIOD?
Call or write me! I am collecting two things right now: your period questions, and first period stories. Leave me a voicemail with either or both at 262-PERIOD-2 (262-737-4632). Don't forget to tell me how to contact you if you don't mind my following up.
Other ways to contact me:
I can't wait to hear what you think! Thanks for listening!
Direct download: here
Permalink: here
RSS: here