Friday, November 4th 2016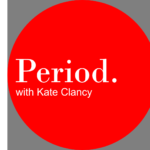 Excerpt: Kate interviews musician Kiran Gandhi and inventor Heli Kurjanen about having periods in public.
Summary: In this episode, I talk to two women with periods on their mind – Kiran Gandhi, who freebled the London Marathon in 2015, and Heli Kurjanen, inventor and founder of the Lunette menstrual cup. Kiran and I discuss the public and private experience of having periods, the effect of menstrual taboos on young girls, and what it means to live a life of hiding ourselves. Kiran has leveraged her fame from the London Marathon to continuing her period activism and consciousness raising across multiple platforms. Follow her on Twitter at @MadameGandhi and on her website at kirangandhi.com.
Heli and I discuss how one goes from making your own diapers for your baby to being inspired to invent and market your own brand of menstrual cups. We also discuss the environmental and ethical issues that go along with making and selling menstrual products. Lunette is doing great work for women all over the world, and I was proud to have her on as a guest. Follow Heli at @HeliK_Lunette, her product at @Lunettecup, and the Lunette cup website at lunette.com.
Subscribe to PERIOD so you don't miss an episode! Subscribing, especially on iTunes, helps us a ton with promoting the podcast and getting the word out to more people. So does leaving a review, so please do that too! You can also find information about the podcast at Period Podcast on Facebook.
Want a better PERIOD?
Call or write me! I am collecting two things right now: your period science questions, and first period stories. Leave me a voicemail with either or both at 262-PERIOD-2 (262-737-4632). Don't forget to tell me how to contact you if you don't mind my following up.
Other ways to contact me:
I can't wait to hear what you think! Thanks for listening!
Direct download: here
Permalink: here
RSS: here