Friday, October 28th 2016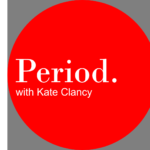 Excerpt: Kate interviews the founder of Periods for Pence, now Periods for Politicians.
Content warning: abortion and reproductive justice are the main topics of this episode.
Summary: I talk to Sue Magina (best pseudonym ever, amirite?), the founder of Periods for Politicians. Sue has been instrumental in organizing and radicalizing the women of Indiana around issues of reproductive justice, and is now encouraging others to help her take this work to the whole country. In this episode, learn why perinatal hospice care can be a great thing but doctors shouldn't be forced to advise it, and why it's really hard to inter or cremate menstrual blood.
If you live in Indiana or one of its neighboring states, Sue and the whole Periods for Politicians crew are hosting a rally next week called The Revolution Will Be Uterized. Here's the info:
Wednesday, November 2nd, 5:30-8:30pm
Indiana State House, 200 W. Washington St. Indianapolis, Indiana 46204
For the full listing of events (constantly being updated!), click on the Facebook event
At PERIOD Podcast we support period activism, and you should too!
Subscribe to PERIOD so you don't miss an episode! Subscribing, especially on iTunes, helps us a ton with promoting the podcast and getting the word out to more people. So does leaving a review, so please do that too! You can also find information about the podcast at Period Podcast on Facebook.
Want to be on PERIOD? I am collecting first period stories! Leave me a voicemail with your story at 262-PERIOD-2 (262-737-4632). Don't forget to tell me how to contact you if you don't mind my following up.
Other ways to contact me:
I can't wait to hear what you think! Thanks for listening!
Direct download: here
Permalink: here
RSS: here