Friday, October 21st 2016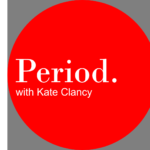 Excerpt: Kate interviews two educators who teach students about periods.
Summary: This episode was a ton of fun to put together. I was lucky to get to interview Lali DeRosier, a seventh grade science teacher and awesome science outreach advocate. We talk about what kids know, and what cultural conceptions of gender make kids not realize they know… like the several times Lali has had to convince boys in her classroom that girls poop.
Then, I talk to Talia Oakley, a sex health educator. We also talk about what kids know and mis-know… and my daughter makes an accidental appearance.
Subscribe to PERIOD so you don't miss an episode! (Don't know how to subscribe? Just search "period" on any podcast app, or search "period podcast" in iTunes.)
Subscribing, especially on iTunes, helps us a ton with promoting the podcast and getting the word out to more people. So does leaving a review, so please do that too! You can also find information about the podcast at Period Podcast on Facebook.
Want to be on PERIOD? I am collecting first period stories! Leave me a voicemail with your story at 262-PERIOD-2 (262-737-4632). I've loved the stories I've gotten so far. Keep them coming! Don't forget to tell me how to contact you if you don't mind my following up.
Other ways to contact me:
I can't wait to hear what you think! Thanks for listening!
Direct download: here
Permalink: here
RSS: here