Friday, February 2nd 2018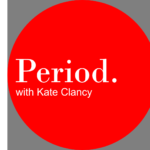 Excerpt: Join Kate as she talks to grad student Holly Horan from her fieldwork in Puerto Rico on the effects of stress on pregnancy and preterm birth. Show notes can be found at kateclancy.com/period23. And don't forget to use coupon code "periodpodcast" for 50% off your order at elleboxco.com!
Summary: I was lucky enough to meet Holly Horan a few years ago when I was out at Oregon State giving a talk. I then invited her advisor, Melissa Cheyney, and Holly, to be part of a symposium at last year's American Association of Physical Anthropology. We got to talking after the symposium, and of course Holly quickly became another one of my podcast victims. I am excited to share our conversation with you all in today's episode.
Holly Horan has a masters degree in medical anthropology and is a doctoral candidate in applied anthropology at Oregon State University. In her non-academic life, she is a birth and postpartum doula, this is a professional who provides non-clinical prenatal, labor, and postpartum support to pregnant individuals and their families. Holly is currently conducting her dissertation research in Puerto Rico, studying the relationship between perceived maternal stress and gestational age at delivery. She is involved in a variety of maternal and infant health research projects both in the states and in Puerto Rico, but is still very much in the "gestational phase" of her professional career. Most importantly, she is a mother to one of the best research assistants around, her two year old daughter, Naya Thoreau.
Holly's work in Puerto Rico is motivated by the fact that Puerto Rico has a high rate of preterm births, as well as her lived experience as a member of a mixed race household, with a Puerto Rican mother who herself experienced several preterm births. Her work demonstrates the limits of understanding health disparities through simple genetic explanations – the idea that genetic differences explain variation in health – as well as access issues – the idea that health care access are the main reason for health disparities. Rather, psychosocial stress, the kind that comes from every day slights and discrimination, has been shown to play the biggest role in creating differences in the health between racial groups. So, is there "something in the water" that helps us understand variation in health? Yes, but it's not as easy to measure as you might think.
Do you want to be a patron, or is there someone on your shopping list who would want to be? Check out my Patreon page for ways to support this podcast. Help me make beautiful things!
Want a better PERIOD?
Subscribe to PERIOD so you don't miss an episode! Subscribing, especially on iTunes, helps us a ton with promoting the podcast and getting the word out to more people. So does leaving a review, so please do that too!
Call or write me! I am collecting two things right now: your period questions, and first period stories. Leave me a voicemail with either or both at 262-PERIOD-2 (262-737-4632). Don't forget to tell me how to contact you if you don't mind my following up.
Other ways to contact me:
I can't wait to hear what you think! Thanks for listening!
Direct download: here
Permalink: here
RSS: here