Friday, September 23rd 2016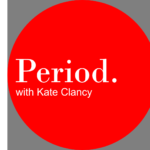 Excerpt: Kate introduces her new podcast PERIOD, and shares a few of her favorite clips from the first few episodes.
Summary: Welcome to PERIOD! PERIOD is a podcast where I explore anything and everything to do with the menstrual cycle, most especially the bloody bits. I am a biological anthropologist whose research focuses on the ways in which stress, lifestyle, and environment affect women's health. I also wrote for Scientific American for a few years and do a fair bit of science outreach online and on my campus, the University of Illinois. PERIOD is my chance to spend some time with my favorite topic, hang out with people I admire, and learn more about the social, political, and biological aspects of menstruation.
I'm really excited to share with you interviews with researchers, activists, and parents and kids just trying to make their way in the world. I hope this podcast becomes a place where you can share your experience, learn from people who are different from you, and engage in period science and activism.
This first run of PERIOD will be twelve episodes long. I hope you'll be giving me tons of feedback along the way to shape the last episodes of this season, as well as future seasons.
Subscribe to PERIOD so you don't miss an episode! Once we are in iTunes you can of course subscribe there, there are also lots of Android-friendly ways to subscribe. You can also find information about the podcast at Period Podcast on Facebook.
Other ways to contact me:
I can't wait to hear what you think! Thanks for listening!
Direct download URL here!
Permalink URL here!