Friday, October 27th 2017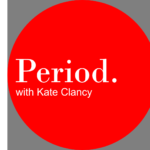 Excerpt: PERIOD returns for a new season!
Summary: It's been a bit. I've been pregnant, had a kid, had a bunch of complications, gone on leave, and now I'm finally starting to put together some great episodes for you. The first episode drops November 3rd 2017. I've also got a sponsor for this season – I can't wait to tell you all about our giveaway and affiliate program!
In the meantime, subscribe to PERIOD so you don't miss an episode! Subscribing, especially on iTunes, helps us a ton with promoting the podcast and getting the word out to more people. So does leaving a review, so please do that too!
Check out my new Patreon page for ways to support this podcast. Help me make beautiful things!
Finally, you can also find information about the podcast at Period Podcast on Facebook.
Want a better PERIOD?
Call or write me! I am collecting three things right now: first period stories, perimenopausal stories, and lochia (postpartum bleeding) stories. Leave me a voicemail with either or both at 262-PERIOD-2 (262-737-4632). Don't forget to tell me how to contact you if you don't mind my following up.
Other ways to contact me:
I can't wait to hear what you think! Thanks for listening!
Direct download: here
Permalink: here
RSS: here